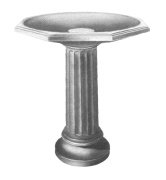 CLICK HERE
To read an important
safety note!
Concrete Machinery Company sizes its bird bath pedestals and bowls according to a numerical designation: 1, 2 or 3. Size 1 is the largest and size 3 is the smallest. In general, the same size pedestals and bowls are matched, and this gives both stability and pleasing appearance. However, there may be times when you will want to combine items. This is acceptable if you will follow these rules.
Size 1 and 2 bowls cannot be used on the size 3 pedestals.
Size 1 bowls cannot be used on the size 2 pedestals.
Learn more about SIZE 2 products by clicking on the links in the charts below. Note that some of our concrete bird bath images show a pedestal and bowl together to clarify function. But in ALL CASES, molds for these products are sold separately. An incredible number of possibilities may be obtained by mixing and matching the various components.