Pools & Fountains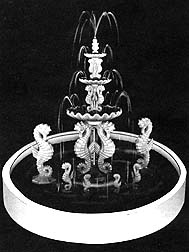 Pools and fountains are not, strictly speaking, "items" in our catalog. Instead, pools and fountains are fashioned from Concrete Machinery molds utilizing techniques we (and our customers) have developed...but a large part of the equation is the creativity you bring to the project. Numerous molds we manufacture can be used to make fountains and pools. Typically, fountains incorporate bird bath bowls and pedestals. Very often, statuary (animal, human, floral or other) becomes a part of the presentation. While we can give you ideas, the final design is really dependant on you and the molds you have or will purchase. (If you would like to see a picture of a fountain made from a bird bath pedestal, bowl and other components, click here for a "pop-up" window.)
That being said, here are some things you should know. The first is that extra caution needs to be exercised with fountains. We suggest that you instruct your customers to securely anchor the bases of all units to avoid tip-overs. The same is true for pieces making up the fountain unit. Permanently attach all individual pieces into one solid, sturdy unit. Flowing water is a variable that requires planning as well as special safety considerations.
A second thing you should know is that fountains and pools require plumbing skills. Our print catalog/instructional guide, Turn Concrete Into Gold, gives lots of helpful tips and specific instructions for making fountains. Frankly, we believe the book is essential for safe and successful fountain/pool construction. You'll be able to see lots of successful designs in the catalog, and you may wish to copy them for your use. However, they may spur your imagination for even more creative designs.
Finally, we'll be happy to help you figure out just which molds will work best to make the design you desire. We also offer a full range of accessory items including pumps. Just give us a call or send an e-mail.

Pools & Fountains Components
Product Description

Quick View

140
Rock Garden Bird Bath Height: 7-1/2 in. Base: 31-1/4 x 31-1/4 in.
Water Depth: 2-1/4 in.
Details

847-2*
Rustic Panel Block Mold: Thickness: 1-7/8 in. Width: 4 in. Shipping Weight: 6 lbs.
Details

847-4*
Rustic Panel Block Mold: Thickness: 4 in. Width: 4 in. Shipping Weight: 8 lbs.
Details

* These "building blocks" can be used to make fountains/pools of many sizes and shapes. Click on the "Quick View" feature to see an example.
Con-Mac Pool--Many arrangements are possible from the building components listed below. Click on the "Quic,k View" option (right) to see one example of the Con-Mac pool.

80
Con-Mac Curved Pool Section: Inside Radius: 35-1/2 in.
Bottom Thickness: 3-3/4 in. Height: 10-1/2 in.
Details

81

Con-Mac Interlocking Pedestal Base: Dimensions: 12 x 7-7/8 in. Height: 12 in. Number Of Mold Pieces: 3

82

Con-Mac Elevating Base: Top Diameter: 17 in. Bottom Diameter: 21 in.
Height: 7-1/4 in.
---
Pumps

| | | | | | | | |
| --- | --- | --- | --- | --- | --- | --- | --- |
| | | Product Description | | | Quick View | | |
| 1 | | Recirculating Pump Dimension Height: 4 in. Dimension Length: 4-1/2 in. Gallons Per Hour Output Height Above Water Level 1 Ft.: 205; 3 Ft.: 168; 5 Ft.: 120. No output above 7', 4". | | Details | | | |
| 1-AA | | Recirculating Pump Dimension Height: 4 in. Dimension Length: 4-1/2 in. Gallons Per Hour Output Height Above Water Level 1 Ft.: 140; 3 Ft.: 90; 5 Ft.: 35. No output above 6', 5". | | Details | | | |
| 2 | | Dimension Height: 4-1/2 in. Dimension Length: 5-1/2 in. Gallons Per Hour Output Height Above Water Level 1 Ft.: 300; 3 Ft.: 255, 5 Ft.: 207; 10 Ft.: 70. No output above 11', 5". | | Details | | | |
| 3 | | Recirculating Pump Dimension Height: 5-3/4 in. Dimension Length: 7 in. Gallons Per Hour Output Height Above Water Level 1 Ft.: 558; 3 Ft.: 540, 5 Ft.: 510; 10 Ft.: 420; 15 Ft.: 390. No output above 27', 6". | | Details | | | |
| 8 | | Recirculating Pump Dimension Height: 6-1/4 in. Dimension Length: 9 in. Gallons Per Hour Output Height Above Water Level 1 Ft.: 3,500; 3 Ft.: 3,200, 5 Ft.: 3,000; 10 Ft.: 2,000; 15 Ft.: 1,000. No output above 18', 0". | | Details | | | |