IMPORTANT SAFETY NOTICE!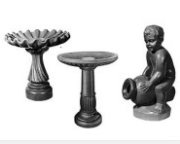 As an added precaution, we suggest that you instruct your customers to take the following steps with bird baths, fountains and other multi-tiered items:
ANCHOR ALL PEDESTALS TO A FIRM FOUNDATION


PERMANENTLY ATTACH THE BOWL TO THE PEDESTAL


PERMANENTLY ATTACH ANY STATUES TO THE BOWL
Be safe rather than sorry. Concrete items are heavy, and if they topple, they can cause injury. Particularly vulnerable are young children who like to grasp the edges of bird bath bowls and tug to get a better look.