A Customer Account at Concrete Machinery Co.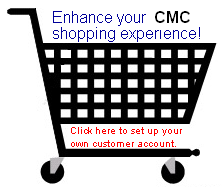 Concrete Machinery Company wants to make your shopping experience as simple and efficient as possible. Having an account registered in our system is a big step in this direction.
First, let us point out that we DO NOT store any credit card or other sensitive data, and you are not even asked to supply that when you register.
Setting up an account just takes a minute or so, and here are some of the benefits:

Your e-mail address or name becomes your permanent login, and you choose the password you want. You have the ability to change your password at any time, and you can retrieve it if you forget what it is.


When you come back to shop, your customer details will automatically be populated at checkout. You don't have to fill in information each time you shop.


Your account will give you the ability to search for and look at previous orders you've placed.


You can choose to place yourself on our promotion list for occasional e-mail notifications and offers...like when we have new molds or special savings.
What are you waiting for? Click here to set up your account!
---